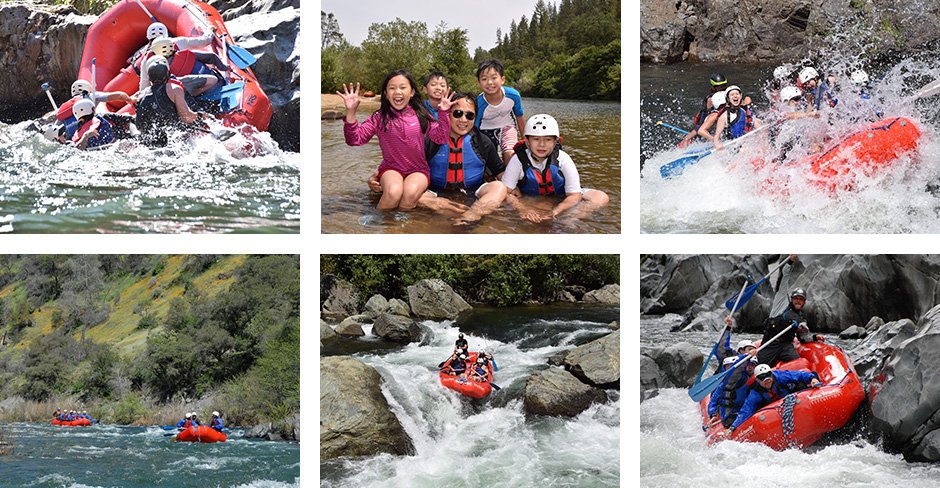 Which Trip Is Right For Me?
This is the most commonly asked question. Much thought goes into planning your perfect holiday and if you are not sure about something, just give us a call at 800-825-3205.
The South Fork is a great way for a family, kids and nervous first timers to be introduced to the thrills and fun of whitewater rafting in a safe yet thrilling environment. Enjoy the fun and excitement of rafting with your kids or a group of friends in the outdoors while creating wonderful memories of time spent together on the river. You will develop an appreciation for the great outdoors, get to know the wonders of nature, and have a terrific fun time. We offer 5 different experiences on the South Fork, ranging from 1/2 day to 2 days covering 6 to 21 miles or combine with the Middle Fork or North Fork.

Middle fork whitewater rafting trips offer rafting on a wilderness river. If you'd like more thrills, challenges, and excitement as well as a true wilderness experience, the Middle Fork of the American River, pioneered by American Whitewater, is just for you. This beautiful river, flowing through rich gold-bearing country, has heaps of impressive rapids, including the ultimate in "Big Drops" the world famous Tunnel Chute Rapid. Covering 18 river miles, you'll experience one long, thrilling day on the river on this adventurous trip. No experience required with a minimum age of 12. Sounds like something you may be quite keen on….

North Fork rafting is the ultimate spring run for those with previous rafting experience or for first timers who want to go for the gusto on their first rafting trip. Featuring almost continuous technical whitewater rapids, you'll slalom through Chamberlain Falls, Bogus Thunder, Staircase, and many more. The last few miles of your adventure offer a slower pace allowing you to catch your breath, relax and enjoy the beautiful scenery of the canyon. You can enjoy the spring wildflower display, lush foliage, and abundant wildlife. 9 miles of awesome thrills, managed spills and lots of wetness. This Class 4/5 run is a Guide favorite so get on board and paddle like you mean it!

One of this areas best kept secrets are the beautiful wineries set against a backdrop of stunning, rolling gold hills. This trip is best done over two days with the first day spent experiencing the magic of the grapes and taking in the stunning views of the Sierras. Followed by a day spent on the river getting wet and having more fun than a barrel of monkeys. You get to pick – South Fork or Middle Fork. If you can picture yourself indulging in this sublime experience then click below for more details.

Why do we assume that learning only occurs when you are serious and quiet, be it either at the office or at school? Well, forget that theory because we firmly believe that the best way to learn is through fun, which will increase your confidence as well as reduce your stress. The highest level of executive thinking, making connections, and the great "aha" moments are more likely to occur in an atmosphere of "exuberant discovery" where people of all ages retain that kindergarten enthusiasm of embracing each day with the joy of learning. Fun actually promotes learning, increases dopamine, and raises endorphins, oxygen and energy levels!

Be warned: Traveling with us will change your life!
From the highlands of New Zealand to the plains of Africa, from massive Himilayan Rivers to the rainforest of Costa Rica, we have spent the better part of our lives traveling the world, climbing its mountains and running its rivers. Grab your passport and join us as we go on an adventure that will open your eyes to a world seldom seen by others. Our international river adventures are so much more than rafting, they are journeys and experiences that immerce you in culture and surround you with mind blowing scenery.