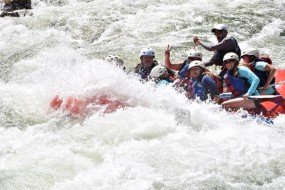 If your time is limited but you still want to experience the joy of rafting, then this is the perfect trip for you. Action packed from start to finish and sure to get your adrenalin flowing.
Meeting Time: 8:30 AM in Coloma on Weekdays. 8:30 AM or 12:00 PM on Weekends
Length: 6 miles
Time on water: 2 hours
Class/Level: II - III
Cost range: $79 - $99
8% Government Land & River Use Fee is added to all trip prices. Be sure to check out the family special, group rates and last minute specials.
Click Here for Details and Itinerary