Best Yosemite Whitewater Rafting
Are you craving what only the power of nature can give you? Do you enjoy the rush of rafting? Are you looking to create lasting memories? If you answered "yes" to any of these questions, then you belong rafting the American River with American Whitewater Expeditions. Come experience the best rafting near Yosemite National Park!
Find the perfect adventure! Browse our trips, we have something for everyone!
The Oldest Company in the Area & The Best Guides Around
American Whitewater Expeditions takes our job seriously. With over 40 years of experience, we are the leading rafting company in the region. When you book a trip with us, you can be assured that you will have an amazing experience.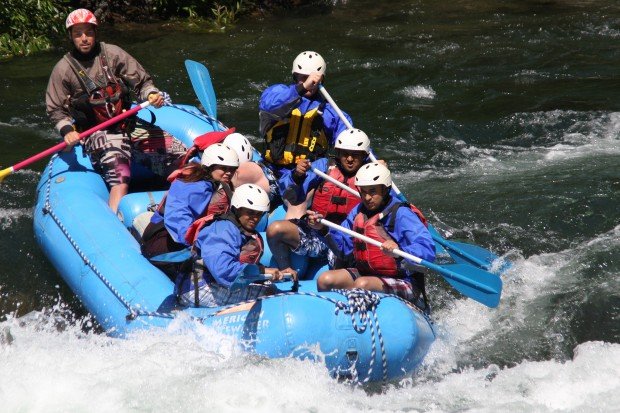 Our guides are the best. Not only do they each have amazing personalities that will make your trip fun, but they go through rigorous training to get to where they are today. They are, at a minimum, CPR, First Aid, and Swiftwater Rescue Certified. Our guides also go through a training school. They also bring cell phones, satellite phones, and radios with them. So when you are with them, you know that you are in good hands.
The Finest Equipment for Your Safety
We also make sure that our equipment is the best in quality that there is. Our rafts are state of the art and fit 7 people plus the guide. All rafts also include grab handles inside as another safety precaution. Our PFD's are Coast Guard Certified, and they make sure you float, regardless of whether you were planning on it or not! We also provide the highest quality wetsuits to ensure that you stay warm on your rafting trip.
Bonding and Adventure for Your Group or Team
Are you looking for a fun activity to bond a team? Whitewater rafting with American Whitewater Expeditions is the perfect activity. American Whitewater Expeditions knows how teams work, and we will make sure that every person participates. We welcome all groups, regardless of whether you are a small local club or you are part of a corporate team.
We also offer discounted rates to Military, Police, Fire, and EMS personnel and their families. We would like to thank you for all you do to ensure our safety!
Spend the Night With Us
With family friendly campgrounds, in ground pools on site, and plenty of nature to explore. American Whitewater Expeditions is the perfect place for families, teams, and anyone that wants to enjoy a getaway from the stresses of everyday life. With a variety of overnight packages available, we are sure to have something to fit your needs.
Call us today or make a reservation online! With our caring staff, knowledgeable guides, and the California beauty, you will not regret your rafting trip!